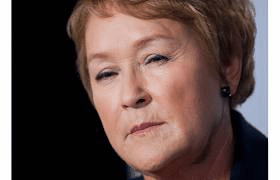 Will Pauline be smiling on Tuesday?
For many of us, it will be hard to enjoy this long weekend as we face down with grim acceptance the election coming up on Tuesday.
Usually Labour Day signifies the end of summer and perhaps it is prescient and symbolic that the glory days of summer are ending, morphing into Fall and onto the dreary days of Winter.
It's always sad when the summer ends, it's even sadder when political uncertainty becomes a certainty.
I don't know what a prisoner feels as he shuffles off to the gallows, but it must be emotions like these.
The palpable sense of doom, a stomach wrenching pit that is shared by most of us, making us feel as if we are that infernal '
Dead man walking.'
I shudder to think what five years of Pauline Marois will bring. Think of the idiots she brings along, like Drainville and Lisée, two fools who couldn't run a deppaneur.
Imagine these idiots trifling with your lives, it's enough to make one vomit.
The sad truth of the matter is that all the corruption in the world cannot hold a match to the financial disaster that awaits us as the unions, the students, and government workers run riot as Pauline empties the public purse to satisfy her constituency of takers.
One thing an election campaign provides, is a window where we can look in and see how extraordinarily stupid our politicians are, operating without the support of the real people who operate the government, the deputy ministers who wave their political bosses off one bonehead move from another.
The opposition doesn't even benefit from this sage advice and so, are ever more so prone to uttering political
non sequiturs
as demonstrated by Pauline, who delivered one stupidity after another.
And so it is always dangerous when politicians veer off from the neatly prepared text that their handlers work so diligently to prepare and ad lib their own thoughts, which more often than not, shows them to be even more dimwitted than we thought.
Even Jean Charest, who I personally know to be highly intelligent with a fearsome memory is not immune to fits of fancy.
Every time a major politician speaks, there is a handler standing in the back, crossing his or her fingers that the candidate not speak their mind.
Mr Charest's
desperate attempt to shore up support by proposing to apply Bill 101 to federal institutions was sadly transparent and
Francois Legault
has his moments of rank stupidity as well, just a few days ago, calling on doctors who leave the province to reimburse the government for the education that Quebecers paid for.
A wonderful idea if the government actually offered each of these doctors a job and I'm not talking about a job in Ungava Bay.
Most doctors leave BECAUSE THEY CANNOT GET A JOB!
It is sad that someone running for the top job does not know this.
And so we are faced with how to vote and for those off the island, voting for the CAQ may mean the difference between a PQ seat or CAQ seat.
On the island it doesn't make a difference as the Liberal puppets will be re-elected no matter what.
If federalist forces realize that the Liberal's goose is cooked, then a switch to the CAQ is merited, it may be the only strategy left.
Let us run down Tuesday's possibilities;
SCENARIO #1 - A PQ MAJORITY
No doubt, the worst case scenario for us, but one where the Peekists will find in short order that while language issues got them elected, economic issues will be their undoing.
Once they get their oats off passing restrictive language legislation, the true disaster of Quebec's financial situation will bear down.
The elephant in the room is not only the debt, but the deficit.
While every political party based their budgetary program on the prediction that Quebec's economy would grow at about 2.5%, it isn't happening.
This year's predicted deficit of under two billion is close to being reached, this just four months into the year, as economic growth is actually in negative territory, something nobody will admit.
This means an additional two to three billion added to the deficit and if the PQ follows through with its election promises, another one or two billion would be added, bringing the total up to around six or seven billion, this year.
Like every incoming government before them, Pauline will take one look at the books and renege on the financial goodies package, claiming quite rightly that the Charest government lied about the finances and that the government cannot afford new spending.
As she seeks confrontation with Harper in the hope of riling up Quebecers and push them towards sovereignty, she will find the PM to be polite, but non-committal and as the old saying goes, it takes two to tango.
The real test will come in 2013 when the Equaliztion program is up for renegotiation. If the feds scrap the program it would mean another five or six billion dollar loss to the budget, meaning that Quebec may very well be faced with running a ten billion deficit and no Pauline, even taxing the rich people at 100% of their income won't fill that gap.
How Montreal's real estate market will react remains to be seen, but over the near term I can see the condo market collapsing and I wouldn't want to be in the shoes of the developers bringing all those new buildings to market over the next two years.
If the PQ is elected your west island home will be worth 25% less on Wednesday.
It'll be worse than all this, but more another time.
SCENARIO #2 - A PQ MINORITY
Here things get interesting.
A PQ minority could easily be defeated by a CAQ /Liberal coalition, a more likely scenario than the CAQ supporting the PQ for very long. Under the CAQ/Liberal coalition, Legault would become the PM as he'd likely be the leader of the party that has the most seats between the two, notwithstanding the fact that Jean Charest may well be defeated in his own riding.
A CAQ/Liberal coalition would probably string the PQ government along for a few months before pulling the plug over a budget, so as to be seen as trying to work with the government and not to appear arrogantly setting aside a PQ government chosen by the people.
Defeating the government would not result in a new election as long as the coalition advises the Lieutenant-Governor that there is a coalition that is prepared to form a government and able to face the National Assembly.
SCENARIO #3 - A CAQ MINORITY
A CAQ minority government would be akin to a CAQ majority government with the Liberals having no other choice but to support the government at all costs and for many years.
This is the position that Michael Ignatieff and the federal Liberals found themselves in, before the last federal election, which they foolishly triggered themselves.
The lessons of that election and the utter decimation of the Liberals will be a sharp reminder to Charest or his successor not to trifle with elections when you are on a downward spiral.
If things pan out as predicted in the polls, the Liberals will remain with a dozen or so seats, half of them English/Allo.
If that happens, it would be natural that they defect to the CAQ, or form a splinter Anglo/Allo rights party, thus finishing off the Liberal party once and for all, something that is needed if we want to avoid electing a separatist government with 30% of the vote.
SCENARIO #4 - A LIBERAL MINORITY
The most unlikely of all the possibilities but one that may very well happen.
If so, The Liberals would need to seek a solid partnership with the CAQ in order to preserve any semblance of sustainability.
In the end, this government can't last that long, the ambitious CAQ has nowhere to go but up.
By the way, if the PQ wins a majority government it will certainly be because of the split federalist vote, but a special honourable mention must go to Prime Minister Harper who went out of his way these last few years to alienate Quebec and punish Mr. Charest.
There are many Quebecois soft nationalists who feel abandoned and pushed around by Ottawa, discarded by Mr. Harper and it isn't just about money.
They may not want a referendum, but they do want someone to defend Quebec, something neither the Bloc or the Ndp were and are able to do.
If this view is shared by just 3-5 % of Quebec voters, it may be enough to give the PQ the victory.
Here's a ditty by
Bowser and Blue
, which has incorporated a couple of this blog's artwork.
I'm very proud; Please enjoy;
thanks to 'The Cat' for pointing the link out!